Aug 8, 10:30 am "HYSTERICAL WOMEN"
LIZ JAMES & REV ANNE BARKER (Saskatoon U's)
Aug 15, 10:30 am "WRITING AS A SPIRITUAL PRACTICE"
ILARA STEFANIUK-GAUDET & KATHIE CRAM (Saskatoon U's)
Aug 21, 10:30 am "ANTIDOTE TO PERFECTION"
REV. DANIELLE WEBBER (Kelowna U's)
Aug 28, 10:30 "THE GROWTH OF HUMANITY"
REV. DANIELLE WEBBER (Kelowna U's)
10:30 am Meeting ID 995 4538 4626
+1 587 328 1099
Noon Meeting — See calendar for Passcode, ID, more
We are working to restart in-person worship services, events, and facility rentals. We invite you to participate online in a compassionate, supportive community at our Sunday Services and any of our other announced events.
Centre To End All Sexual Exploitation
This organization works with community partners to heal the harm of sexual exploitation which includes public education, support, bursaries, trauma recovery and emergency poverty relief.
Boyle Street Community Services
A non-profit, inner-city agency that assists individuals and families challenged by homelessness and poverty. Each year they help over 12,000 people.
Emergency Appeal: Because of Covid-19 we are forced to give out water bottles. Please donate only funds, no in-kind donations of water. Give now at https://www.boylestreet.org/water
7:00 pm Meeting ID 956 5643 4070 +1 587 328 1099
Unitarian Church of Edmonton Calendar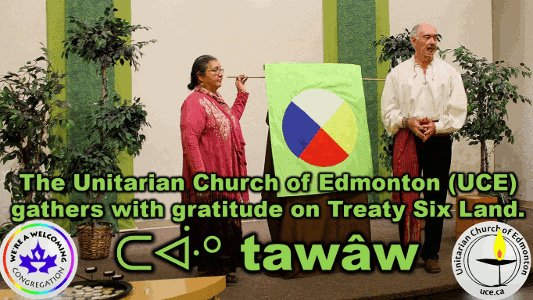 Sunday Services, Keeping in Touch Events, UCE Kids & Youth, and UCE Board & Committee Events have gone online. Click on any calendar entry for the connection details and full description. Look for them by colour.
The Unitarian Church of Edmonton is a congregation
openly and honestly searching, learning, connecting, and serving.