The Unitarian Church of Edmonton is a congregation
openly and honestly searching, learning, connecting, and serving.
Summer Administrative Hours at UCE Have Begun
Administrative hours will be Wednesdays from 9:30 to 12:30 pm. (from June 22 to August 24). Otherwise, you will be able to catch the Administrator hosting the online UCE summer Zoom services on Sundays.
** Please remember in order to keep a safe workplace for our administrator, plus the safety of our members, and friends, our building is only open to a select number of necessary staff and volunteers. Please contact Janet (chadmin@uce.ca) if there is anything you need in the building. The building will remain closed to all events, services, and rentals until at least September at the earliest.
Unitarian Church of Edmonton Calendar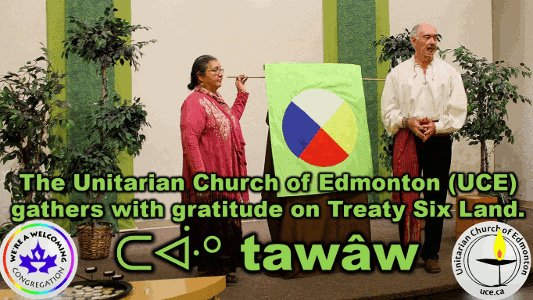 Click the down arrow control for our list of calendars.
Sunday Services and Keeping in Touch Events have gone online. Click on any calendar entry for the connection details and full description. Look for them by colour.
Using a calendar on your cell phone or email? To connect our calendar to yours, click on the plus icon.
@UnitarianChurch on Facebook