We apologize
Our Sunday, October 17th Church Service could not be hosted on Zoom due to technical difficulties, and it was not recorded to be posted later. Please bear with us while we work to resolve issues in the future.
Oct 3, "Indigenous Alberta: Before residential schools"
SUSAN RUTTAN
Oct 10, "A Harvest of Hope"
REV. ROSEMARY MORRISON
Oct 17, "Strength in Community"
REV. ROSEMARY MORRISON
Oct 24, "Longing and Belonging"
REV. ROSEMARY MORRISON
Oct 31, "Samhain: Hallows Blessing For The Ancestors"
SERVICE LEADER: GORDON RITCHIE
In-person worship services are limited in attendance. Zoom links are below and in our calendar.
Canada's only national leadership retreat for lesbian, gay, bisexual, trans-identified, queer, questioning and allied youth. The camp is designed to help youth develop leadership skills and personal resiliency. Along with summer camps, the Institute for Sexual Minorities Studies and Services (iSMSS) at the U of A has extended fYrefly to schools to help reduce discrimination against 2SLGBTQ+ youth.
Inspired by the ideals and philosophy of Mahatma Gandhi, Child Haven International was founded in 1985. We assist children and women in developing countries, who are in need of food, education, health care, shelter and clothing, emotional and moral support.
Visit childhaven.ca
Unitarian Church of Edmonton Calendar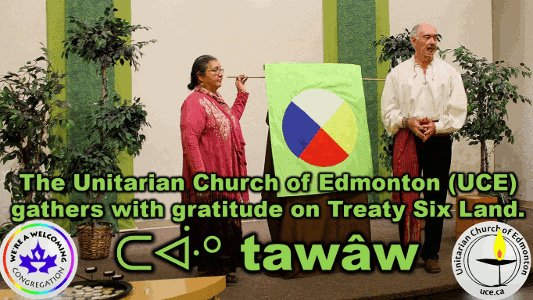 Sunday Services, Keeping in Touch Events, UCE Kids & Youth, and UCE Board & Committee Events have gone online. Click on any calendar entry for the connection details and full description. Look for them by colour.
The Unitarian Church of Edmonton is a congregation
openly and honestly searching, learning, connecting, and serving.