Tap or mouse over a flame, carry it over to another candle. Repeat. Use
BLOW OUT THE CANDLES
at the bottom to start over.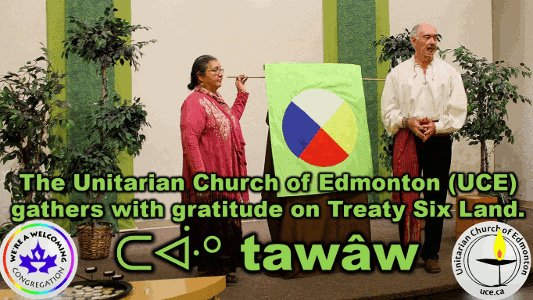 📞 Dial +1 587 328 1099
id 977 7945 3314
code 24325
Jun 11, 2023

Fur, Feather, Fin, and Folks: We Are All Related — Rev. Rosemary Morrison
Everyone is welcome to attend in-person or online. Zoom links are on this page and in our calendar.
We donate half of the loose cash collected each month to a different charity.
The George Spady Centre Society is recognized as a leader in the development and delivery of effective services for the care,
treatment and support of individuals with substance-related disorders and dual diagnoses. People who come to us find dignity,
hope and healing as they set a new path towards health and well-being.
The Unitarian Church of Edmonton is a congregation
openly and honestly searching, learning, connecting, and serving.