June 27, 10:00 am
"WORLD'S BIGGEST UU SERVICE" — 10 AM — UUA
July 4, 10:30 am
REV. LEE ANNE WASHINGTON'S FINAL SERVICE — REV. LEE ANNE
July 11, 10:30 am
"MAKING A DIFFERENCE" -- REV AUDREY BROOKS & FRIENDS
July 18, 10:30 am
"FACING THE RED LIONS" -- CATHERINE WELLNER (KELOWNA U's)
We are working to restart in-person worship services, events, and facility rentals. We invite you to participate online in a compassionate, supportive community at our Sunday Services and any of our other announced events.
10:30 am Meeting ID 200 338 874 +1 587 328 1099
Noon Meeting — See calendar for Passcode, ID, more
7:00 pm Meeting ID 956 5643 4070 +1 587 328 1099
The Unitarian Church of Edmonton is a congregation
openly and honestly searching, learning, connecting, and serving.
Unitarian Church of Edmonton Calendar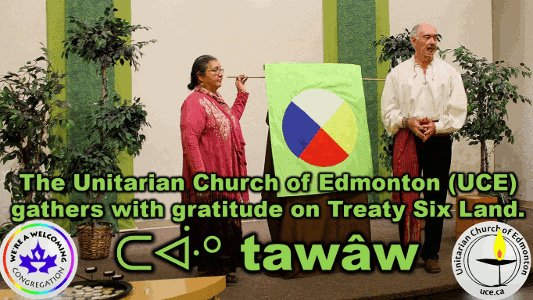 Sunday Services, Keeping in Touch Events, UCE Kids & Youth, and UCE Board & Committee Events have gone online. Click on any calendar entry for the connection details and full description. Look for them by colour.