NEWS FROM THE SOCIAL JUSTICE WORKING GROUP
Social Justice meet on the 2nd Sunday of each month after the Sunday Service. All are welcome to join, just show up!
The Social Justice group attends the Sidewalk Parties at the Hope Mission on the 3rdSunday of each month at 7pm, and you are always welcome to join us!
The next Social Justice Sunday Service will take place on February 24th, in honour of Black History Month. This will also be a Soup Sunday, so we invite you to join us for lunch after the service!
Sunday February 17 falls on the Family Day weekend, and it's also the date when the Social Justice Committee attends the Sidewalk Party outside the Hope Mission at 7pm. We invite you to join us, and bring your family, for a first-hand look at how poverty and homelessness affect our fellow citizens, and to get to know our neighbours in the inner city. Please bring some food, blankets or winter clothing to share.
https://www.facebook.com/events/2289172244466188/
The UCE Social Justice group voted unanimously to be a drop off location! Be prepared for there to be a drop off in the church lobby for feminine hygiene products (Tampons, Maxi Pads, Panty Liners, Feminine Treatment Products, Packaged Underwear, Menstrual Cups…) in the month of February.
Please follow Facebook and our website calendar for upcoming events
Here is the link to the 2018 Facebook Event for Unitarians Together with Pride, a great time to show our support and enjoy the Pride Parade:
https://www.facebook.com/events/630715857119655/
Sharing Our Abundance
Each Sunday we take an offering to support the work of the church, but we donate half of the loose cash in the plate to an outside charity.
SHARING  OUR  ABUNDANCE  RECIPIENTS – 2018
January — CHANGE FOR CHILDREN, Edmonton partners with communities in Latin America and Africa who are struggling with poverty to improve access to basic needs, healthcare and education. It is a local organization but aid goes to developing countries.
January 21, 2018 – Canadian Unitarian Council (CUC) – Sharing Our Faith provides funds for congregational initiatives which enhance ministry, aid projects and outreach for congregations, and enhances the Unitarian Universalist movement in Canada. These funds are allocated yearly in the form of grants to congregations for projects they may otherwise not afford to undertake.
 February — iHUMAN Youth Society, Edmonton supports youth to obtain housing, get mental health and addictions support and build on their creative strengths. Their mission is to work with traumatized and marginalized youth who live high risk lifestyles.
 March — INTERNATIONAL COUNCIL OF UNITARIAN-UNIVERSALISTS (ICUU) whose mission is to empower existing and emerging member groups to sustain and grow our global faith community.  Past president is Rev. Brian Kiely.
April — CHILD HAVEN INTERNATIONAL, Maxville, Ontario was started by Unitarian Minister Fred & Bonnie Cappuccino.  Child Haven supports children and women in developing countries who are in need of food, education, health care, shelter and clothing.  Child Haven has five homes in India, Nepal, Tibet, China and Bangladesh.
May — YOUTH EMPOWERMENT & SUPPORT SERVICES (YESS),  Edmonton has been providing support, programs, housing and resources to youth who are lost, abandoned without a place to turn for over 35 years.  Over 60,000 meals are served annually to this high needs group. YESS needs 6 million annually to stay up and running and one half of that amount comes from donations.
June — GEORGE SPADY CENTRE, Edmonton is an inner city agency which provides overnight shelter to 72 adults. They also have a 20 bed detox for adults under the influence of alcohol or drugs. Admission is immediate and offered on a 24 hour- 7 day a week basis.
July — STEPHEN LEWIS FOUNDATION, Toronto delivers resources directly into the hands of grassroots organizations turning the tide of HIV and AIDS in Africa.
August — BOYLE STREET CO-OP, Edmonton is a non-profit, inner city agency which assists individuals and families challenged by homelessness and poverty.  Each year they help 12,000 people (more than 70% of whom are of Aboriginal descent) access a wide range of supports and service. They provide health care, mental health and addictions support, housing, employment counseling and drop in services.
September — CAMP FYREFLY, Edmonton is Canada's only national leadership retreat for lesbian, gay, bisexual, trans-identified, queer, questioning and allied youth. The camp is designed to help youth develop leadership skills and personal resiliency.
October — UNITARIAN-UNIVERSALIST UNITED NATIONS OFFICE (UU-UNO), New York City is the Unitarian Universalist Association's representative at the UN.  It is committed to peace, freedom, environmental responsibility as well as social, civil and economic justice.
November — CBC TURKEY DRIVE, Edmonton raises cash and collecting donations for Edmonton Food bank and ensures people in need can enjoy a festive meal.
December–  CENTRE TO END ALL SEXUAL EXPLOITATION (CEASE), Edmonton works with community partners to heal the harm of sexual exploitation which includes public education, support, bursaries, trauma recovery and emergency poverty relief.
Local Charities include:
Bissell Centre:  UCE maintains a donation box for clothing and household goods gifts for the Bissell Street shelter. As well, each Christmas we hold a Mitten Tree Service and collect an enormous amount of hats, scarves, gloves and socks which also to the shelter for distribution.
Edmonton Food Bank:  In 2010 UCE became a neighbourhood distribution point for the Edmonton Food Bank. Each Wednesday our volunteers unload about 650 kilos of food from the truck and distribute the pre-packaged hampers to about 40 families assigned to us each week. Most of these families live within a few kilometres of the church.
Our Church and Social Responsibility:
The Principles of Unitarian Universalism speak in several places about our engagement with the wider world. Members and friends of UCE have deep personal commitments to a wide variety of justice and charitable causes. As a whole the church supports several as well.
Social Justice Committee
Our social justice committee takes an active interest in causes and issues of various kinds, such as protection of gay rights. Several UCE members are singers in the Raging Grannies singing group.
Pride Parade on Sat. June 10 2017 was a successful event and heartwarming to see so much support.
Please follow Facebook and our website calendar for upcoming events
Here is the link to the 2018 Facebook Event: https://www.facebook.com/events/630715857119655/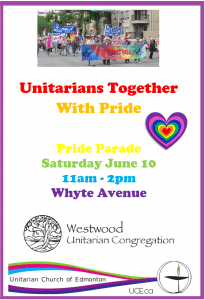 Invitation to the Ninth Annual Genocide Memorial Service,
July 16, 2017 GENOCIDE MEMORIAL BROCHURE
PHOTO: Unitarians in the Pride Parade