"Sanctuary" a sermon by Rev. Brian J. Kiely  October 7, 2018  Unitarian Church of Edmonton
A sanctuary, in its original meaning is a sacred place, such as a shrine.  It comes from the Latin word Sanctarium, a container for holy things…or perhaps a gathering place for cherished people.
It might seem odd to have a room in a Unitarian congregation called a Sanctuary.  We really aren't, by most common definitions, a terribly holy people.  There are even a good many people who are amazed that the sign out front says 'church'.  And a fair number of them are probably in this room.  Yes, for some who are very religious and some who are anything but religious, the words, 'Unitarian' and 'Church' are oxymorons.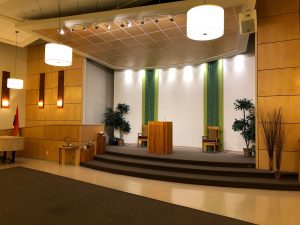 Still, the plaque outside identifies this as a Sanctuary.  I will take a little credit for that.  When we moved to this building over a dozen years ago, one of my quiet little causes was naming this room our Sanctuary instead of Hall or Meeting Room. I just subversively started calling it the Sanctuary early in the planning phases and the name stuck, no one seemed to object.
I was being most deliberate.  And if you know me, you know I'm pretty humanistic in my own theological views, but this word seemed to matter.  Why?  This needs to be  a special place for our community.  'Hall' just doesn't capture that.  
When we moved in, it wasn't special at all.  It was just a shiny new room, unfamiliar, unused.  Nothing had happened here.  We owned it, but it wasn't ours in a meaningful sense.  It had not become a sanctuarium for our stories and memories.  It had not been lived in yet.  We were going to have to do something to make it special.
Over a dozen years, that has changed. There have been weddings and memorials, child dedications, shared suppers, congregational meetings, musical performances, mitten tree services, Blue Christmasses, social justice events, youth sleepovers, blanket ceremonies, flower communions, regional gatherings, welcoming of members and a whole lot more.
Now, there is magic in this room, but not the kind of magic that is ordained by some deity.  No relic makes this a sanctified place.  No sacred lamp marks the presence of the divine.  Nevertheless, it is a special and dare I say 'holy' place.  What makes this room a Sanctuary are the stories we have poured into it and continue to pour into it.  What makes this place a Sanctuary is the living we have done here as a community.
The other critical definition of the word Sanctuary carries a sense of safety and protection.  In the legal traditions of many countries, there are enshrined ancient rights of asylum in churches.  From the fourth through the 17th centuries, English law recognized the right of asylum.  If they could make it into the boundaries of the church, fugitives could be granted sanctuary and were immune from arrest for as long as they stayed.  About the year 600, King AEthelberht established the first formal set of laws governing sanctuary.
They would last until abolished by James 1 in 1623.  James – of King James Bible fame – was a great supporter of Church of England religious conformity and had many enemies in the Catholic Church and among other Reformers.  No doubt his repeal of Sanctuary laws were in support of rooting out his enemies.
Nevertheless the tradition of sanctuary persisted, if not for criminals per se, then at least for political dissidents.  In the 1980's many Central American refugees fleeing a spate of wars in their homelands sought sanctuary in U.S. churches.  (Refugee status was much easier to get for those who made it as far as Canada).  When I was in Divinity school in Chicago  I was part of a team that stayed with a Guatemalan family to serve as deterrents to the INS and as witnesses should their officers come to snatch the family from a church owned apartment.  The US government was leery of violating religious space.  There was no law protecting the church – other than separation of church and state. It was simply a convention and a perception that dragging people from churches would be really bad PR for the government.
Another modern and legal variation seems to be religious sponsorship of refugee families.  Our congregation has supported refugees from Laos, Bosnia and most recently from Syria over the years.  Fortunately we were working with the government so we did not have to take them into sanctuary per se, but these were actions born of the same tradition of helping people find safe refuge from their hostile governments.  Across the country during the Syrian crisis, the largest group of sponsors after the Federal Government itself were the various church groups in Canada.
And about 10 years ago, our large congregation in Ottawa did, in fact, grant Sanctuary to a gentleman from Asia who was under orders for deportation to his war torn homeland.  He lived in the church for over a year.  As a matter of solidarity, Rev. Fred Cappuccino, who many of you know from his Childhaven work, moved into the church with him.  The man gave back to the church in the form of his fabulous cooking skills.  Once he received his permanent papers to stay in Canada, he opened a really wonderful restaurant near the church.
In the US these days a number of our congregations are promising or giving Sanctuary to long time residents threatened with deportation by the current government.  It is an unpopular immigration policy and many churches feel it is their responsibility to resist.
So we are working with two definitions of Sanctuary; 
1. the repository of sacred things.
Well, we Unitarians generally don't hold with the most common concept of sacred things.  There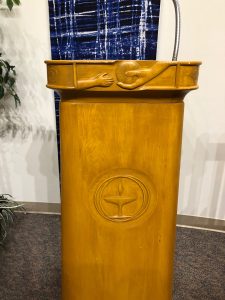 are things we value and appreciate, like this pulpit carved decades ago by Robert Block. He came to visit this week from up north and Janet posted a nice photo of him on Facebook.  
We value our banners.  The oldest came from a group of church women in Ohio who made them as an enormously successful fundraiser for their church almost 40 years ago.  Since then we have added a few of our own and will soon hang one representing first nations traditions.  It is being made by the good people at the Bent Arrow Society.  And we have our chalice.  I really don't know its provenance, but it's been here for at least 25 years.  Last Sunday a longtime member, Docia Lysne was visiting from Calgary.  She used to take pride in polishing it at least yearly and had something to say about my negligence in keeping up the tradition.
Sure, we have things, things we would like to preserve, but they aren't holy in any traditional sense.  But over the years, like this room, we have invested them with meaning. Many of the objects were carried lovingly by hand, in a procession from our old church through a heavy winter snowfall.  They symbolize the memories, the aspirations, the life of this community that had happened in that beloved building. They each say something about who we are.
Take a look at Mr. Bock's pulpit.  It has the logo of our denomination from the 1960's and 70's, and the symbols of the world's major faiths around the top rim.  But the most important image for me is right in the top centre, a pair of adult hands passing the world down to a pair of children's hands.  It is a symbol of one of our most significant obligations, to create a better world in which our children can live and grow.  I'm not sure how well we are scoring on that test these days, but the promise is there, and the reminder is here.
Or consider the table at the back that holds your hymnals each Sunday morning.  It's an old desk from Victoria School that has been refurbished and dedicated to "these strong women" of this church in it's earlier years.  Their names are noted on plaques.
These are artifacts, but they are artifacts that tell our story.  They remind us of who we were, who we are, and in many cases, what we have stood for over time.
Are these merely cherished artifacts or are they sacred objects?  You tell me.
I am not sure I see a distinction.  To me the sacred is something that comes from within us, not from an external deity.  Even when I have had the opportunity to visit great religious sites in various places, it isn't the holy relics or the magnificent pieces of art that move me, it's the accumulation of living.  
There is something meaningful in the notion of praying or worshipping in a place where generations of others have done the same thing. It leaves me with a tingly feeling that I am connected to something greater than just me.  I feel part of  the moving stream of human time like I belong to  something extraordinary.  For me, that's sacred.
This room is a holy place because of the memories it holds, because of the moments of living that have happened here.  I was married right here last December.  My youngest daughter was dedicated over there.  Each December I have had the delightful pleasure of presiding over the rambunctious dedication of the mitten tree right here.  Usually back there is where I sit when I am uplifted my the music of Chorealis.
I can sit in this room and recall – actually see in my mind's eye – moments from our history: the memorials, the pageants, the performances, the speakers.  I have been moved in this place, comforted in this place, entertained in this place.  That is sacred enough for me.
2. Well, if definition #1 is 'the repository of sacred things', definition #2 is a place of safety and even resistance.
Next week our service will look at the policies we have in place that serve to make this a safe place for people of all ages. But safety goes beyond the kinds policy.  First and foremost, it is a feeling, one that liberates people from fear and anxiety.  And when people feel safe, extraordinary opportunities are available. Listen when people light candles on Sundays.  There are tender things spoken. People risk. We are trusted with these vulnerabilities.  And then there are silent candles some of which may represent things too tender to even be discussed.  
A community like this is intentionally gathered to welcome people in every stage of life.  In obvious ways this includes old and young, wealthy and financially challenged, healthy and people with physical concerns.  
But in less obvious ways it includes people who are struggling with mental and emotional challenges, people who are overwhelmed by grief or who carry the weight of the struggles of those near and dear to them.  This is a safe place for us when we are broken and looking for healing.
And that pretty much describes each of us some of the time.
"Lean on me, when you're not strong and I'll be your friend," are the words of one of our hymns.  We sing that because we want it to mean something.
"May all who seek here find a kindly word, May all who speak here feel they have been heard," are the lyrics of another.
That's what we strive for in the creation of our Sanctuary.  It's not just a room, not just a gathering place.  We have and must continue to work hard to make this room a safe place where people can tell their stories, or speak their truths knowing they will be heard and kept safe from attack or denigration.  If this is truly to be a Sanctuary, it must be the place of radical hospitality of which Karen Mills spoke last week. And that means opening our hearts to the things people say.  It means silencing our judgemental sides, even if it's only for the time we have here.
Our pulpit or our chalice or our banners do not make this room into a sanctuary.  Neither does your minister, frankly.  Only you can make this place a Sanctuary, for you are the sacred objects here, with your Unitarian values and your good hearted and compassionate character.
This room is the centre of our community.  It is where the loving heart of UCE beats and will continue to beat so long as you treat the place and the people as special – as sacred.  You are the Sanctuary