"Khasi Unitarianism (India)"
 a sermon by Rev. Brian J. Kiely
Unitarian Church of Edmonton, February 24, 2013
In one of the farthest and most remote areas of India, Unitarianism has existed, even thrived for 125 years.  How the heck did that happen?  And more importantly, perhaps, does Unitarianism located in such a dramatically different culture bear any resemblance whatsoever to the religion we practice here in Canada?
The quick answer to the second question is: You would be surprised!  The answer to the first is a bit more complicated and rather interesting.  It even has a Canadian connection.  But as I have examined the beginnings of Unitarianism around the world, the story fits a very common pattern: It begins with questioning religious doctrine.
Of course, no question comes out of thin air.  Each question, each challenge is the product of inherited culture examined with rational thought.  This story is no different, and so we must go back before the time of the question to look at the religious context.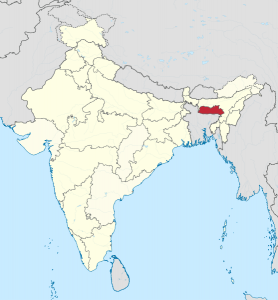 The modern day Indian province of Meghalaya is a hilly place, tacked on to India more by modern geo-politics than for any other reason.  The three main tribes, the Khasi, the Jaintia and the Karbi are not even ethnically Indian.  In fact they bear DNA closer to their Burmese neighbours.  These are hill tribes of isolated small principalities – for want of a better word – until the coming of the British in 1826.
These tribes were matrilineal in tradition and animist in religious beliefs following a faith called Ka Niam Khasi … which means the Khasi religion.
Ka Niam Khasi is not rooted either in Hinduism or Islam.  There are no temples or churches, though in the town of Jowai I did get to see the sacred forest still preserved for worshipers in this still living faith. They worshiped a great formless divinity named U Blei who is omnipotent, omnipresent and omniscient.  Unlike the God of the Jews and Christians, U Blei remained remote and unrepresented.  According to UU minister John Rex, they considered it a sacrilege to symbolize U Blei in any way shape or form.  The religion taught that through service to others, one serves U Blei. At the same time they believed in the gods and goddesses of rivers, streams, jungles etc. Their religion was based on conciliating good and evil and ancestor spirits through animal sacrifices. Religion is passed down in the home through a complex pattern of ritual and tradition.
Modern day Indian Unitarians recognize these roots and still carry on some of the culture, the way we western Unitarians still carry on aspects of our Christian institutional roots.  For example a glossy souvenir booklet celebrating the anniversary was paid for by ads memorializing deceased ancestors.  On Sundays there is both church worship and then a home services with friends.  The culture is still primarily matrilineal.  And in chatting with the UUNEI President during our winding torch lit march, they still consider these followers of the ancient ways the most fertile ground for Unitarian growth.
But, Unitarianism today is demonstrably different from this ancient religion.  It all began with the building of a road by the British wanting to exploit the excellent tea growing regions of neighbouring Assam.  And as we know of colonization, usually the first ones through the door are missionaries.  In the case of the Khasi, Jaintia and Garbi hills, it was Welsh Calvinists who made the trek.  And like many successful missionary efforts the world over, they arrived with a gift: education.
The people of these hills were and largely remain subsistence farmers working in a labour intensive way that goes back to the Bronze Age.  But education unlocked new possibilities for their sons (these were patriarchal western missionaries after all).  With education, doors into commerce and government service opened.  Not surprisingly the price of education was conversion.
In 1865 Hajom Kissor Singh was born in Jowai, in a family that followed Ka Niam Khasi.  Studious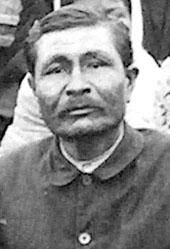 and inquisitive, Singh entered missionary school at age 15.  He observed that the missionaries had done away with superstitions, fear of demons and the sacrifices …but had replaced them with the Calvinist fear of Hell, a fear devoid of the ability to help oneself except through faith that God might have decided that you are worthy of salvation.
The thing is that like Servetus in Europe, Francis David in Transylvania, Channing in the United States and Toribio Quimada in the Philippines, Hajom Kissor Singh actually read the loving and kind messages of Jesus in the Gospels. He questioned the contradictions. He decided that this gloomy and punishing mission theology made no sense.  Instead he found a message of hope and salvation.  When he failed to convince others he just decided to break away to seek what he called the true religion of Jesus and the love of God.  In fact he was just turning back to the gentle presence of U Blei.
In 1885 he learned of the presence of Rev. George Dall in Kolakata, an American Unitarian minister who had failed miserably in the U.S. but who succeeded very well in his small Indian mission church.  He began an exchange of letters with Dall and later with Jabez Sunderland, editor of the Unitarian Magazine and a former minister of the First Unitarian Congregation of Toronto.
Through them Hajom Kissor Singh discovered the writings of Channing, Emerson, Martineau and others and was provided with pamphlets and worship materials.  These ideas were like a spiritual life preserver.  On September 18, 1887 Hajom Kissor Singh held the first Unitarian service in his home, just a few hundred meters from the present church.
He later wrote Sunderland, "We have formed ourselves into a Unitarian Union, and two other friends have joined our union so that there are now five Khasi … Unitarians in our hills.  We have adopted the following statement of beliefs: 'We believe, (1) in the Unity of God; (2) in the Fatherhood and Motherhood of God; (3) in the Brotherhood of Man; (4) in Love, Union, Worship and Faith; and (5) in Immortality.
"Now we must plainly tell our friends the difference between Unitarianism and Trinitarianism.  We must translate and compose hymns for ourselves, and must find out tunes to suit them.
"…We are going on with our work with the scanty time at night at our disposal after the fatigues of the day."
He concludes with a request for more printed materials to help him launch a post office mission.
125 years later, there are more than 9,000 Unitarians in the province scattered in 42 congregations, making them the third largest Unitarian national group in the world.
And unlike anywhere else, Khasi Unitarians manage schools in nearly all of their villages, public schools open to all.  They play significant roles in government and the delivery of social services, especially in the isolated villages.  Indeed, there have been times in the early days of the Indian nation, that the Unitarians have essentially provided government.
Well, that's my best answer to the first question of how there came to be Unitarians in this isolated region.  There is still my second question: Does it bear any resemblance whatsoever to the religion we practice?
My quick answer is more than you know.
Over the five years I having been working internationally for our faith I have come to understand that if you start by looking for the differences, you will find them.  There sure are a lot between us and Khasi Unitarians.  For example, four worship services in one Sunday!  That's a bit excessive even for them, but most weeks have a morning and an evening service and some form of looser afternoon house services, especially for young people.  Really the whole of Sunday day and into the night is given over to church activities.  A second example is the amount of singing: seven or eight hymns in a service plus a couple of choral pieces, all in the kind of 'rock-a-billy' style you heard.  Of course there are the children and young people – swarms of children and young people, close to half the congregation – who participate fully in all of these services and who are remarkably quiet throughout.  Theologically, their devotion to U Blei – to God is powerful.  One friend called it a continuing love affair.  You will hear U Blei more in a couple of Khasi services than in a year's worth of Canadian ones.
And then, of course, there are the differences in dress, language and culture.  It is easy to get tripped up on these things.
So where are we similar?  A grounding moment for me was the start of the service.  Like us they kindle a chalice at every service – they all stand for that ritual, by the way.  I found that simple act to be one of the most powerful moments for me, a direct and powerful link that easily spanned the 12 time zones.  It didn't matter that I did not understand the words, my body understood the action. And though there is more song and longer sermons, the service remains recognizable.
And then there is the theology that actually seems so very familiar.  The Khasi Unitarian understanding of God is so broad and generous that there are none of the conflicts many western Unitarians experience when they bump up against the word.  Unlike our British and Transylvanian co-religionists, and even some east coast American UU's, there is very little use of Christian scripture in their worship.  U Blei is bigger than that, much closer to the concept of the 'oversoul' Ralph Waldo Emerson described in our responsive reading.
In their world, U Blei is an inspiration rather than some kind of divine hall monitor, although an inspiration they hold as close as one of their tartan shawls.  For the Khasi Unitarians today, heaven and hell are something we create for ourselves here on earth, not some divine reward and punishment.  If we live well, if we live with loving concern for others, we will receive that in return.  If we create justice, we will find justice.  If we try to create a good and meaningful lives for ourselves and those around us, then we will achieve that.  That doesn't seem so very different from what we generally believe.
Here are their current Vision and Mission statements:
Vision Statement
To sustain such level of spirituality as will sustain us throughout our lives on earth and that will work wonders in our hearts.
To live a righteous life so that goodness and peace will rule the world, and to reach higher levels in life.
To strive for the spiritual brotherhood and sisterhood of all humankind.
To achieve self-sufficiency for the UUNEI in all respects, and to make it strong and vibrant and capable of serving the society at large.
Mission Statement
By worshipping one God, the mission of the UUNEI is to proclaim to the world the oneness and indivisibility of God, to bring light in the midst of darkness, to preach the religion of love-love of God and love of humanity. Respect for all denominations in the midst of differences; respect for humanity at large, for all of God's creation, for the environment,-are our core values.
To bring about peace and goodwill on Earth, to guarantee liberty, justice and equality to all humankind, to encourage and promote the quest of religious truth through the worship of God and the celebration of life.
To provide such spiritual care to our faithful that will help them grow in faith and belief, and to lead a life that is righteous, just and worthy, rewarding, and to live by example.
We might not be so comfortable with their frequent use of the word God, but the vision that grows from that belief is very close to anything we see in the west.
And they seem to live that vision.  The Khasi Unitarians run an orphanage much like ChildHaven.  Each year they visit the prisons and bring gifts and affirming messages to the inmates.  In this anniversary year they sponsored a major educational gathering on sexual health and AIDS.  And when they began the anniversary celebrations they had a different torch light parade in the capitol of Shillong.  Because that congregation is leading a green initiative in that city, they used rechargeable artificial torches.
But what I experienced most is the way they care for one another, physically and spiritually.  In between services young people literally climbed over chairs to bring tea and cakes to the dignitaries on the platform.  When my baggage was delayed the call went out and soon I had warm sweaters and extra clothes.  On Sunday morning they delivered me a new suit of clothes so I would not feel out of place.  I don't think it was because I was special.  I think it was because I was a member of their extended clan of Unitarianism and a member of the respected calling of the ministry.
I went to a place that seemed very strange and foreign.  I came back from a place that seemed very warm, very hospitable, very generous and very much like a religious home to me.