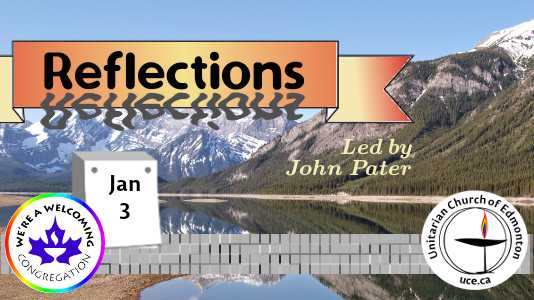 Date
Jan 03 2021
Expired!
Reflections — John Pater
Join Zoom Meeting: uce.ca/service
Meeting ID: 200 338 874 +1 587 328 1099
Reflections
The January 3, 2021 service will be a shared reflection on the year past. 2020 has been the most dramatic of years. To prepare for the service, we ask that you reflect on the stories that have most impacted you this year – the top news stories of the year, the top creative arts stories of the year (your favourite novels, movies, theatre, other art forms), and top personal stories of the year. Unlike in other years when it is easy to pass around a microphone, this year we are asking that you submit your top stories in advance, either through this survey tool or by emailing johncpater@gmail.com. Please submit up to three top choices for each category. Everyone's submissions will be compiled and drawn up as lists to be shared at the service. Thank you for sharing your top stories of the year.
John Pater


~~~~~~~~~
PLEASE NOTE:
Every Sunday we open the Zoom meeting by 10am — on some Sundays we may need some tech time and won't be able to admit you from the waiting room until 10:15am. Don't worry, we have not forgotten about you! We will admit from the "waiting room" as soon as we can.
We ask that everyone that is volunteering (readings, zoom support, etc) to sign in at 10:00amMT so we can ensure all the correct people are made "co-host" and have the ability to unmute plus the other functions they need to access.
Thank you so much for your support and understanding as we strive to grow and learn.
~~~~~~~~~