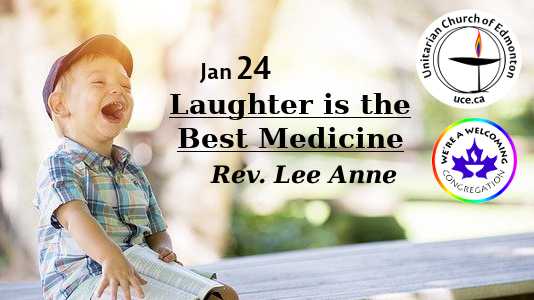 Date
Jan 24 2021
Expired!
Laughter is the Best Medicine — Belly Laugh Day — Rev. Lee Anne
Join Zoom Meeting: uce.ca/service
Meeting ID: 200 338 874 +1 587 328 1099

World Religion Day

Laughter is the Best Medicine — Belly Laugh Day — Rev. Lee Anne


Some believe that humor depends upon the perception of an appropriate incongruity. And, thata good sense of humor depends on the ability to imagine alternative outcomes. Positive
laughter fuels positive energy, connection, and creativity. Have you ever had such a good
laugh that you cried? Remember how you felt immediately afterward? Laughing out loud
releases a neurotransmitter in the brain called serotonin, which relieves stress, reduces
tension, and eases the symptoms of depression. Bring your imagination and join us for a
multi-generational humor filled service. If you have a joke to share, email it to
uce.interim.minister@gmail.com and it may be used in the service!

~~~~~~~~~
PLEASE NOTE:
Every Sunday we open the Zoom meeting by 10am — on some Sundays we may need some tech time and won't be able to admit you from the waiting room until 10:15am. Don't worry, we have not forgotten about you! We will admit from the "waiting room" as soon as we can.
We ask that everyone that is volunteering (readings, zoom support, etc) to sign in at 10:00amMT so we can ensure all the correct people are made "co-host" and have the ability to unmute plus the other functions they need to access.
Thank you so much for your support and understanding as we strive to grow and learn.
~~~~~~~~~